The Faculty of Economics and Business Administration (FEBA) Alumni Club at SU is pleased to invite you to become part of the organization of some of the most talented, ambitious, persistent and enterprising people in Bulgaria. A large part of the graduates are realized professionals in management positions in the public and private sectors both in the country and abroad. 
We offer you membership, through which you could be useful both for improving the quality of the business environment and higher education in Bulgaria, in particular the Faculty of Economics and Business Administration.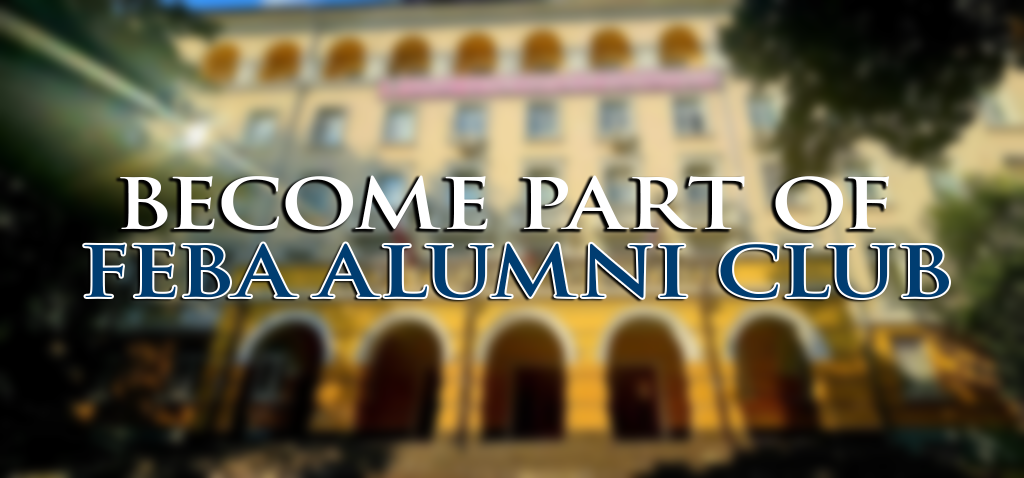 What does the Membership in FEBA Alumni Club offer?
Access to a wide and rich network of professional and personal contacts
Regular information about the activities of the Association
Opportunity for appearances, access to the organization's social events and donation campaigns
The right to participate with a vote in the general meeting of the Association
Invitations to meetings, initiatives and other activities in the country and abroad
Opportunity to present once a year your professional development or activity on the website of the Faculty of Economics, which is indexed at a high level in the Google search engine
Many more opportunities!
The membership fee is for one calendar year: BGN 50
Follow our pages for upcoming events, and you can submit membership requests to alumni.club@feb.uni-sofia.bg.
Guidelines for joining
Write an application for membership in free text, addressed to the Chair of the Board, Aleksandar Aleksandrov, and send it to: alumni.club@feb.uni-sofia.bg (with a copy to Aleksandar.I.A@feba.uni-sofia.bg) and with a copy to Assoc. Prof. Deyan Radev, vice-chairman of the Association (D.Radev@feb.uni-sofia.bg). You need to provide the following information:


Year of graduation
Program
Contact data
Motivation to participate
Current job and position held (optional)
2. After reviewing the application, a message will be sent with details for a payment of the annual membership fee (in the amount of BGN 50 for 2023). Once your application is approved, you can pay the membership fee for 2023 and take part in the General Assembly. You can pay the membership fee by bank transfer to:
Name: Сдр. на Зав. Стопански Факултет на СУ
IBAN: BG65UBBS80021053352740
BIC: UBBSBGSF
Bank: Обединена Българска Банка
Basis: Membership fee 2023 + Your names
3. Register in the FEBA Alumni database at: https://www.febalumni.org/registration/.
4. Choose a digital membership card option and let us know by email to edandreev@uni-sofia.bg. If you choose an option with a photo, please attach it to the email.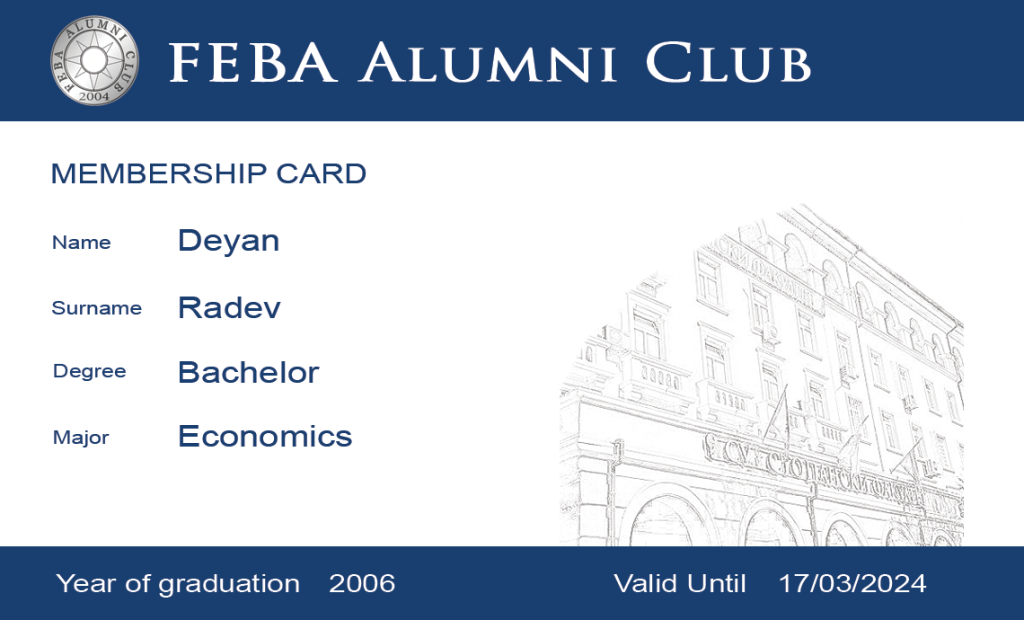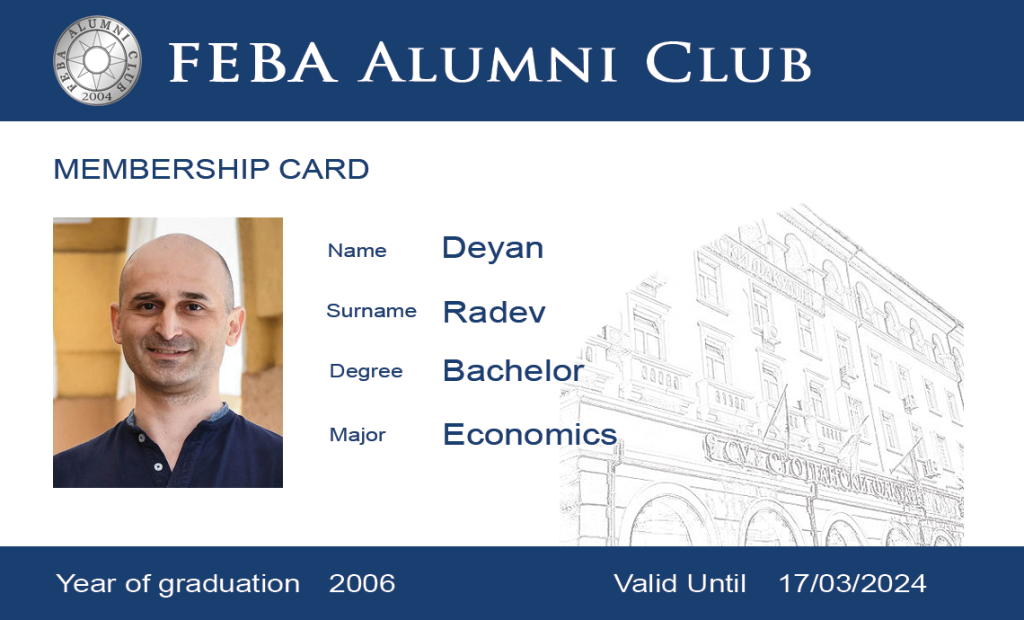 Additional information:
If you sympathize with the causes of FEBA Alumni Club, but do not have the opportunity to join the community as a paid member, you can register in our database with contacts: https://www.febalumni.org/registration/. In this way, you will receive up-to-date information about club membership, educational courses, general events and campaigns.